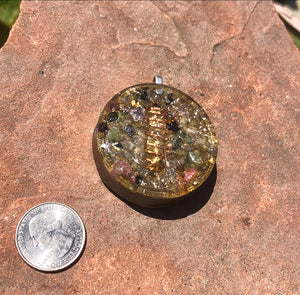 The "Tree of Life🌳" Orgone Amulet- 50% off collection, compact puck, Aura Protection
Regular price $74.74 $50.50 Sale
🌳
50% off by adding "Orgone20" when you checkout. 
Perfectly functional amulet w/ slight aesthetic imperfection, hardly noticeable. 
• Third largest amulet in the shop behind the Large Equilateral & Ankh due to its thickness & weight (1.2 oz). These 3 and the tensor unity are the most potent amulets. 
• Similar in size & weight to the Heart of Gaia & Fungi. 
Comes with an adjustable HEMP cord with two colors of your choice.
Crystals, Minerals & Gemstones:
Laser Quartz, various colored Tourmalines, Elite Shungite, Purple Mica Lepidolite, Petalite, Blue Kyanite, Neodymium disc, Emeralds, Rubies, Sapphires, Selenite & Quartz Sand (Fine & Medium).


Metal filings: 

Pure Silver Leaf, 23k Gold Leaf, Steel, Copper, Brass & Aluminum
•

Metals, Minerals, Salts, Sands & ORMES in the (MMSSO) foundation matrix:

Shungite Powder, Brass, Atomized Pyrite, Iron Filings, Atomized Bronze, Copper Oxide, Rochelle Salt, Aluminum Powder, Aluminum shavings, Pink Himalayan Sea Salt, Activated Charcoal, Diatomaceous Earth, Selenite Powder, Fine Quartz Sand, Medium Quartz Sand, Black Iron Oxide, Red Iron Oxide, Bodega Bay Beach Sand, Yucutan Peninsula (limestone) Beach Sand, Regal Purple Manna Gold ORMUS & White Powder Monoatomic Gold ORMES elixirs.
 The statements made regarding these products have not been evaluated by the Food and Drug Administration. The efficacy of these products has not been confirmed by FDA-approved research. These products are not intended to diagnose, treat, cure or prevent any disease. All information presented here is not meant as a substitute for or alternative to information from healthcare practitioners. Please consult your healthcare professional about potential interactions or other possible complications before using any product.